Application Analytics - Segmenting the Solutions
There are many ways to get sharp insight into your production applications, including:
Creating your own "in house" analytics solution.
Using a turn-key public cloud solution (e.g. Google Analytics).
Using a client managed package that can be run on premises or in the "cloud" of your choice (e.g. PreEmptive Analytics).
Each one has pros and cons and I'd like to quickly look at them, as well as consider the "do nothing" approach.
Do Nothing about Application Analytics:
Many companies are busy fighting today's "fires", and lack the sharp insight into their applications running in production that would enable them to reduce future fires. Said another way, companies without application analytics are more likely to miss quality goals, have higher maintenance costs, and lower customer satisfaction. It's a vicious cycle where the less time they spend implementing application analytics, the more they end up needing it.
With application analytics, they can prioritize work based on actual usage patterns, identify, triage and resolve problems before their customers are seriously impacted. Because of these obvious benefits, high performing companies are less and less likely to choose the "do nothing" path.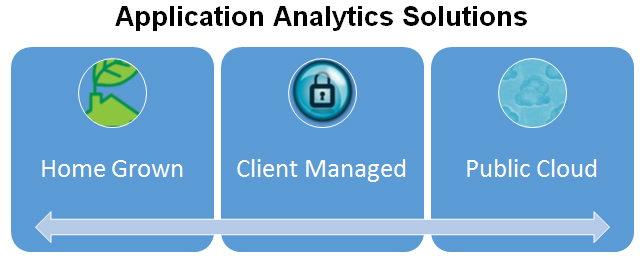 Home Grown Application Analytics:
In-house developed and maintained application analytics solutions can provide deep understanding around the unique needs of a particular company. However, application analytics is not usually a core competency for the company. Therefore, performance, maintenance, ongoing support, new feature development, and high costs are usually an issue. Also, the company will not benefit from ongoing improvements done by others.
Public Cloud Application Analytics:
Turn-key solutions like Google Analytics, New Relic, and (eventually) Microsoft's App Insights will cost-effectively address issues relevant to the mass market. Their strength is in providing high performance, frequently updated, rich reports with universal appeal. Their weakness is in depth of customization and the ability for client control (can't run on-premises or in a secure data center of client's choosing).
Client Managed Application Analytics:
In between these two solution-types are client managed offerings like PreEmptive Analytics which offer the depth of control that usually comes with home-grown solutions, while also offering an out-of-the box experience similar to turnkey cloud solutions. Client-managed solutions have a deeper ability to customize the analytics than cloud solutions do. For example, cloud solutions can't pivot on any arbitrary data or integrate internal business data, because they can't scale that across all their customers in a multi-tenant solution. Also, some organizations are regulated, security conscious, and/or have other isolated scenarios that keep them from sending their application data into a public cloud infrastructure. Client managed application analytics solutions like PreEmptive Analytics try to maintain many of the benefits of a turn-key solution, while keeping the benefits of depth of customization and client control and privacy aspects of a home grown solution.
Summary of the Strengths of Client Managed vs. Public Cloud solutions:

Conclusion:
Successful companies will use application analytics to ensure their applications are performing as expected and continuously improving. Whether, they build their own, utilize one from the public cloud, or utilize a client managed solution depends on their specific requirements.