Product Literature
Data sheets and more information about DashO.
Latest News & Articles
Read up on the latest DashO news.
---
White Papers
Read how PreEmptive is redefining obfuscation protection.
Support
If you need immediate assistance and are a licensed user of DashO, contact us via phone at 440.443.7200 Ext 2
For user guides and documentation, visit the Support page.
---
Videos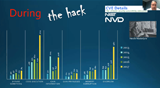 Application Risk Management: Common Practices Combating Uncommon Risk
This webcast goes deeper into the topics covered in our recent blog post: The Six Degrees of Application Risk and offer some real-world scenarios.
Play
---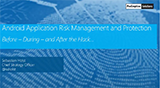 Android Application Risk Management and Protection: Before, During, and AFTER the Hack
Using an Android App for illustration, this presentation and demonstration shows first, how hackers use decompilers and debuggers to gain unauthorized access Intellectual Property and private data and second, how PreEmptive Solutions Protection technology impedes hackers while helping to ensure maximum protection under the DTSA (Defend Trade Secrets Act) and Section 1201 of the DMCA (Digital Millennium Copyright Act).
Play
---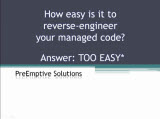 Prevent Reverse Engineering
This video demonstrates how "binary equals source code" in the world of .NET and Java and steps you through the kinds of risks that reverse engineering can pose and how application hardening can help.
Play