Protect and Secure your Java and Android Code
DashO is a Java and Android Obfuscator plus much more. It provides enterprise-grade app hardening and shielding, greatly reducing the risk of intellectual property theft, data theft, piracy, and tampering. Our layered obfuscation, encryption, watermarking, auto-expiry, anti-debug, anti-tampering, anti-emulator, anti-hooking, anti-rooted device solution provides protection for applications all around the world.
How easy is it to decompile Java based applications?
Java and Android applications and libraries are compiled to bytecode which maintains high-level information about your code including its structure and class, field, method, property and parameter names. With a free decompiler, it is very easy to recreate the source code. Obfuscation and related hardening and shielding techniques can make it much more difficult for a hacker or competitor to reverse-engineer your application.
Why use a Java Obfuscator or an Android Obfuscator on your applications?
Applications are on our phones, inside our workplace, and powering the businesses and services we depend upon – it comes as no surprise to anyone that these apps have also become a favored target for cybercriminals, corporate competitors, and hostile nation states wanting crack licenses, steal valuable IP, trade secrets and confidential data, and attack critical infrastructure. By making your application much more difficult to reverse-engineer, you can help protect against intellectual property (trade secret) theft, bypassing licensing or other access checks, and searching for vulnerabilities and gaining access to data.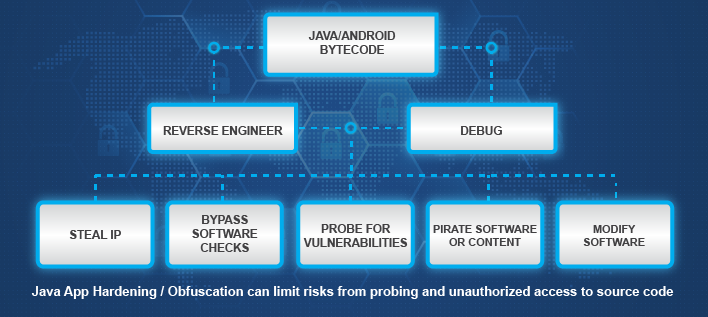 How does Java application hardening and obfuscation work?
Various different complementary techniques are used to create a layered defense to make reverse engineering, tampering, debugging much more difficult. Some examples include:
Rename Obfuscation
String Encryption
Control Flow Obfuscation
Unused Code and Metadata Removal
Binary Linking/Merging
Dummy Code Insertion
Instruction Pattern Transformation
Opaque Predicate Insertion
Anti-Tamper
Anti-Debug
Anti-Rooted Device
Anti-Emulator
Anti-Hooking
Watermarking
Security Alerts
Remove Unneeded Debugging and Logging Method Calls
Custom Response to Tamper, Debugging and Execution on a Rooted Device
How we can help?
We offer PreEmptive Protection - DashO as a world-class, proven Java, Kotlin and Android application hardening and obfuscation tool. DashO provides smart application protection and runtime security controls that materially reduce these risks without costly programmer overhead or unacceptable hits to application performance or quality.
How does PreEmptive Protection compare to Arxan and Dexguard?
Unlike some other tools, our professional-grade in-app protection products do not require an army of professionals to implement. Our technology balances strength of protection, quality of output, ease of use and overall ROI and it is backed by skilled support. Also, our pricing model is transparent and intuitive and our products, support and maintenance are all inclusive. It is simply not possible to have a cost overrun doing business with PreEmptive.
Passive Protection Includes:
Patented Overload Induction obfuscation that is the gold standard in renaming symbolic entries
Control flow obfuscation & optimization that is bolstered by our 20 years of optimization and performance experience ensuring both effective and efficient hardening
Additional obfuscation transforms including extended string encryption, metadata stripping, and much more
Performance transforms include optimal linking, pruning and more
Active Protection Includes Injecting Automated Detective, Corrective and Reporting Controls to:
Protect against piracy via auto-expiration
Prevent tampering and malware insertion
Prevent probing for vulnerabilities and data breach via a debugger
Prevent execution and inspection on rooted devices
Prevent execution and inspection on emulators
Prevent tampering, probing for vulnerabilities, or data breach via hooking frameworks
High Quality Protection against Hackers and Thieves
Built to integrate with the high-precision and complex build environments of manufacturers as well as the automated, agile mobile developer
Meets the highest quality and reliability standards backed by our 20-year track record of continuous improvement keeping ahead of bad actors and multiple waves of malicious tools
Backed by dedicated, live support! Our dedicated, live support team are programmers with an average tenure of over four years supporting our products